SUN 12/17
THE UMPTEENTH ANNUAL McCABE'S HOLIDAY SPECTACULAR! 7:00 PM - $ FREE!
Once again, as we have every year since the beginning of time, we present our Holiday-themed Concert, which turns the spotlight away from the talented acts that grace our stage every weekend and toward our recently paroled staff, teachers, and friends at McCabe's! Come join the fun as we strap on our holiday best, fill our repair counter with a host of free snacks, and attempt to strum, pluck, sing, joke and possibly twerk our way into your hearts while blaming everything on the soundman. That's right, free entertainment and free grub! Although we can't promise you'll be impressed by either offering, it's gonna be fun anyway! Just make sure to bring your own poncho if you sit in the Bob Riskin Splash Zone™.
DON'T BUY TICKETS, IT'S FREE!
Tickets: How To Get 'Em, And Other Important Stuff
Tickets can be purchased EITHER here at McCabe's, OR through our online store, OR by phone with your credit card at (310) 828-4497. There is a $3.00 per ticket service charge for internet and telephone orders.
All advance ticket purchases are held for pick-up at McCabe's®, and are NEVER mailed or shipped, despite the fact that our online store asks for a shipping address (this is an automatic feature of our shopping cart software that cannot be suppressed). Tickets may be picked up in advance, if desired, or at the door on the show date.
All ticket sales are ABSOLUTELY FINAL! There are no refunds or exchanges at any time. Yes, we're nice folks, but this policy must be maintained, so please make your choices carefully. Also, please note that THE TAKING OF PHOTOGRAPHS AND ALL OTHER FORMS OF RECORDING ARE STRICTLY PROHIBITED during concerts at McCabe's®. Your fellow patrons thank you for your consideration, as do we.
One last thing — parking can be difficult at times. Here is some info you might find helpful. Good luck!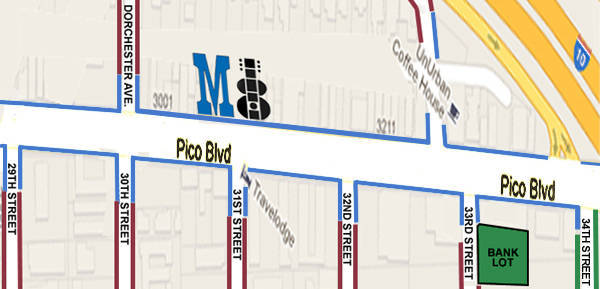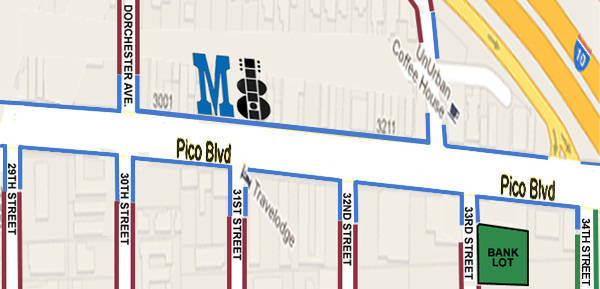 Daytime
The metered spaces on Pico (IN BLUE), which also extend a few doors north and south on each residential street, allow 2-hour paid parking between 9:00 AM and 6:00 PM, Monday-Saturday. Sundays are unrestricted.
Residential streets to the north and south of Pico (IN RED) allow 2-hour free parking between 8:00 AM and 6:00 PM, seven days a week.
Each street has its own posted street cleaning restrictions, which must be observed.
Nighttime
There is now FREE PARKING available in the lot behind U.S. Bank (IN GREEN) from 6:00 PM on, seven nights a week.
The metered spaces on Pico, which also extend a few doors north and south on each residential street (IN BLUE), are free and unrestricted after 6:00 PM and on Sundays.
All residential streets to the north and south of Pico (IN RED) are for permit parking only, seven nights a week.